Latest Newsletter
(Our latest newsletter. If you'd like to receive our newsletter once or twice every month, you can use the link in the sidebar to the right to subscribe.)
---
Hello ,
It's a beautiful autumn day in Northern Nevada. The leaves are starting to turn, there's a dusting of snow on Freel Peak, and a fire whispering in the woodstove.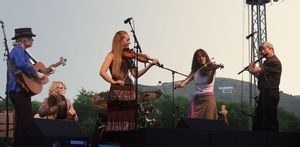 Cíana enjoyed a busy summer, culminating in a performance in front of a couple thousand Celtic music fans at Carson City's final LevittAMP series, where we opened for the Young Dubliners. We also had the excellent pleasure of playing for a hometown crowd at the historic Dangberg Ranch, as the sun sank below the Carson Range. Throw in a couple of weddings, and it was a fulfilling summer of music.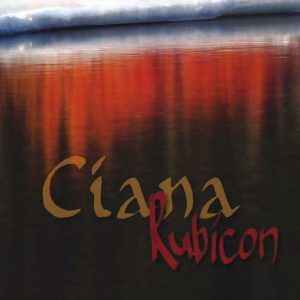 Late this summer, we finally finished our new album, Rubicon, which is available on our website, CDBaby, and Amazon. This is our best work so far, and it really showcases the strong ensemble that we've cultivated over the years. The double fiddle work between Holly and Tina shines, along with Joe's flute and whistle, all backed up by Kathy's impeccable rhythm guitar work. Listening to music and supporting local artists encourages us to keep on playing! (yes, that's a hint for you to get your hands on this great album!)
If you love Irish, Scottish, and Celtic music, which we certainly hope you do, check out the Brewery Arts Center Celtic Series, run by Cíana's own Kathy and Joe. There's a great lineup that's definitely worth checking out this year, kicking off with a friend of Cíana, Richard Mandel, backing up All-Ireland fiddle champ, Gerry O'Connor. Both Gerry and Richard are incredible players, and it's not every day that we get artists of this caliber in our little neck of the woods. There's going to be a lot of stray socks at the Brewery Arts Center, because these two elite musicians will certainly knock them off! Tickets are available on the Brewery Arts website.
Ever mindful of the horrible events across our state and nation over the past few weeks, we feel there's no better time to celebrate friends and family, and to enjoy good music, good food, and good company. We've got a great show coming up at the Reno Celtic Celebration, so spend the weekend with us and our musical friends to chase back the darkness!
Upcoming dates
Saturday, October 7th, 11:15 AM and 2:00 PM: Reno Celtic Celebration, Bartley Ranch Regional Park, Reno
It's Reno's homegrown Celtic Festival!  Cíana will be appearing on Saturday and our sister group, Fortunate Strangers, will be playing on Sunday. We will have a tent, and we'll be playing tunes and selling our new CD, Rubicon, plus all our previous releases. It's October in Northern Nevada and an outdoor venue, so bring a warm jacket, sunscreen, and a hat.
Word o' the month
Solas an lae: Irish for "The light of day".
Slán go fóill! All the best,
Cíana
---
You can always see what Cíana is up to by visiting our website. It features our schedule, music, videos, band biographies, and our contact information.
You can also find us on: