Latest Newsletter
(Our latest newsletter. If you'd like to receive our newsletter once or twice every month, you can use the link in the sidebar to the right to subscribe.)
---
Hello ,
We've had a busy month!
All of us in the band have been dealing with the crazy weather. We're not sure whether to shovel mountains of snow or heave sandbags to combat the flooding. Fallen trees, washed-out roads, flood-proofing houses...it's been nuts!  We even meant to get this newsletter out yesterday, but both the power and the internet was out...so we sipped wine by candlelight and listened to the wind rattling the shingles on the roof.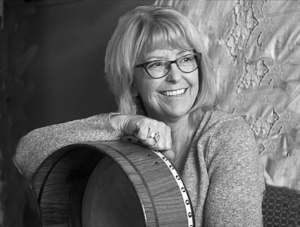 First off, we have some big news!  We're happy to welcome Kathryn Oxoby as the newest member of Cíana as the bodhrán player. With her ability to hear the intrinsic rhythmic patterns inside the music, she brings a pulse and a drive to our music that brings our sound to a whole new level. 
KNPB-TV, the PBS station in Reno, has chosen Cíana to be the subject of a segment on their excellent Arteffects show, for airing around St. Patrick's Day. The producer was so pleased with our interview and rehearsal segment that she's hopeful the Ciana segment will be picked up through national PBS syndication. The KNPB team will also be at our show at Ceol Irish Pub on February 18th, so come on by and make some noise! Here are some photos from the interview day: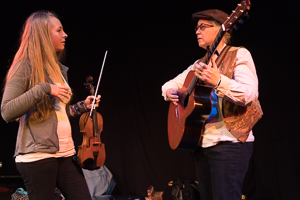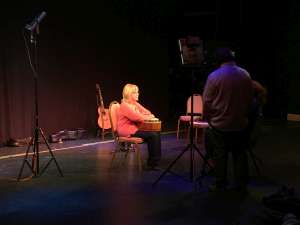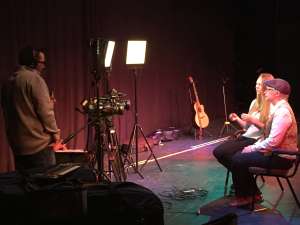 We also want to give a shout to our sister band, Fortunate Strangers, who will be appearing at the Brewery Arts Center, Saturday, Feb 11th. This lineup features the incredible vocals of Celia Ramsay, accompanied by Cíana's Joe Bly on vocals and flute and Kathy Bly on guitar. Featuring Scottish songs both haunting and humorous, Fortunate Strangers is worth checking out.
Upcoming dates
Saturday, February 18th, 9:00-11:59 PM: Ceol Irish Pub in Reno 
After a bit of a hiatus, we'll be returning to the best Irish Pub in Reno! This will be the first gig featuring Kathryn, our newest member, on bodhrán. KNPB-TV also is planning ot be there to get some footage for a feature segment on Cíana, so come on out, stomp, and holler!
Friday, March 10th, 9:00-11:59 PM: Ceol Irish Pub in Reno 
Let's kick off St. Patrick's Day a little early, and kick it off right! We'll see you at Ceol for a stompin' good time.
Thursday, March 16th, 5:45-8:00 PM: Atlantis Grand Ballroom in Reno
This is a performance for the Northern Nevada International Center, a wonderful, vitally-important resource for immigrants and foreign relations based out of University of Nevada-Reno. This year, they're featuring Ireland as their theme for their Global Gala. Seeing that most of us in the US came from somewhere else, this is a good group to support. You can get tix here...admittedly a bit pricey, but the money goes for a great cause.
Friday, March 17th, 7:00 PM to 9:00 PM: Quincy, CA
St. Patrick's Day!  We'll be appearing in Quincy to celebrate. We'll have more details about times and locations once we get closer.
Word o' the month
Tá sé ag báisteach: "Taw shay ag bawsh-tech" Irish for "It's raining". Since rain is such a common theme in Ireland, there are many different ways to describe rain. One of our favorites is "Tá sé ag caitheamh sceana gréasaí," which means literally: "It's throwing cobbler's knives."
Slán go fóill! All the best,
Cíana
---
You can always see what Cíana is up to by visiting our website. It features our schedule, music, videos, band biographies, and our contact information.
You can also find us on: